So excited! The cat tree arrived yesterday for us to install so Sophie, our 18-1/2 year old Siamese, can officially ignore it. I knew to install the thing next to the vent, since Sophie has always been a heat seeker. I also quickly learned to put her favorite bed next to it or she might merely glance at it disgustingly for years.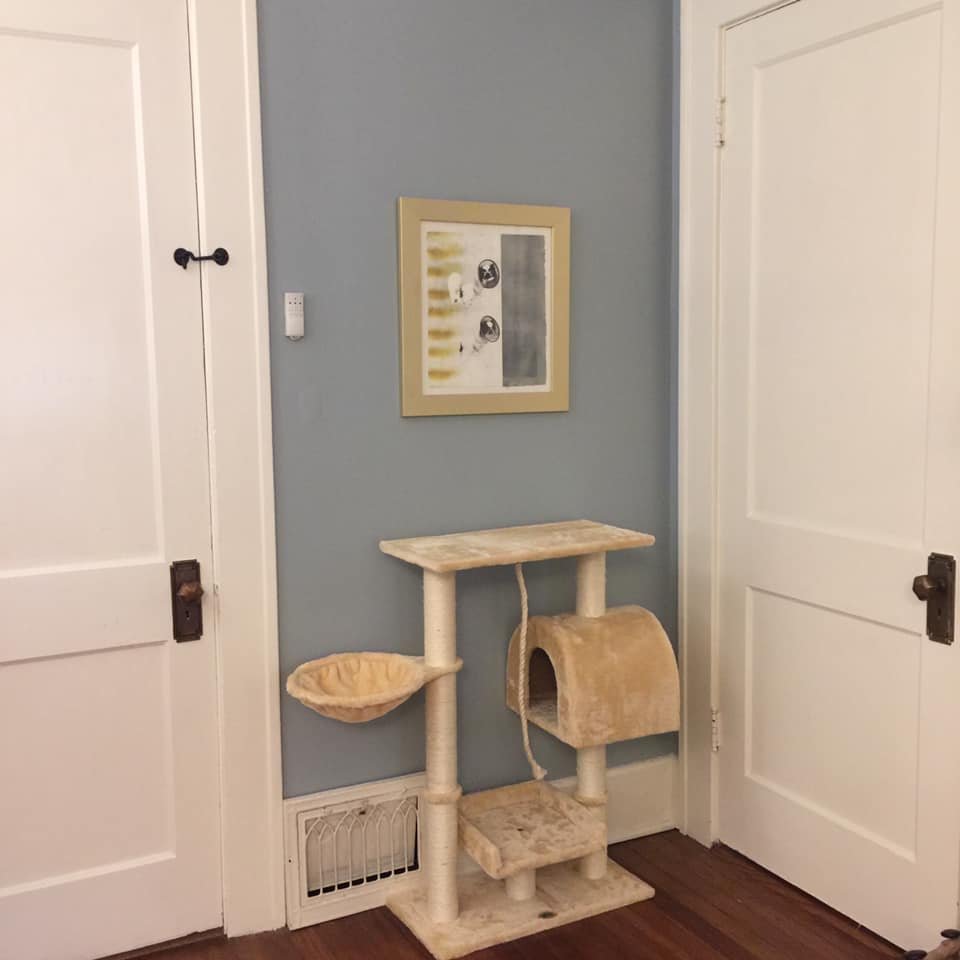 Within a week she moved to the bed beside it and offered slightly less displeased stares. But two weeks later: DISCO! She moved in! Now she howls from the inside of the cave thing for her slaves to appear and attend to her every need.
This is Sophie's theme song, and if you keep her in mind while reading the lyrics, it's pretty hilarous!
Update: May 10, 2019
We had to say goodbye to Sophie today. Kenny took her to the vet this morning because she was up all night wailing, and the day before, she had suddenly tried to bolt out the door. If you knew Sophie, you knew she was a kitty of luxury, a completely institutionalized house cat with no thoughts of trying to run off. We kind of knew from that action alone, that everything was off and it was though, she was trying to go off somewhere to die.
The vet confirmed what we already knew, it was time to put her to sleep. She'd been on a special renal failure diet for years but he also diagnosed her with diabetes and said she was loaded with arthritis.
We will miss our psycho kitty, we'd had her since she was a kitten and she left us a few months shy of her 19th birthday.
I hope there is some way she is able to once again, play with our deceased Yorkie, Boudreaux, over the rainbow bridge. She helped us raise him and they used to get into all kinds of antics together back when she was a young adult kitty.
Update: May 11, 2019
We have roll up room darkening shades on our bedroom windows. Since Sophie had been pretty much confined to our bedroom and sitting room since we moved to Coldwater, I would raise the shade to give Sophie some daylight, whenever I woke up every morning.
At precisely 8:00 this morning, we awoke when the shade suddenly – and noisily – flew all the way up on its on. It has never done that before.
We'd like to think Sophie was being her typical pain in the ass one more time, to let us know she's okay now and still with us.
My Siamese, Sophie, stalking our fish through the aquarium glass. She lives an institutionalized life: in her soft, warm, protected home. But the fish understand, at any moment, she could become a voracious killer.
ALSO: We had to give the aquarium away because no matter how many filters, filter fish, etc. we put in the thing, it stayed gross with algae. We probably should have moved it away from the WINDOW.. oh well, they went to a loving home of family member.