Welcome to our old house renovation blog following our 1883 home, known locally as "Ms. Sadie's Place". Sadie was the name of the original owner's second wife, and now, the name we use to address our house.
Sadie's Relocation
Sadie was moved a mile South in 1942, so her original spot, along with the land of the 700 residents in the old valley of Coldwater, could be used in the Yazoo Basin Headwaters Project and developed into the Arkabutla Reservoir. Arkabutla Lake, its dam and spillway were ordered by Franklin D. Roosevelt and built by the WPA, in response to The Great Mississippi River Flood of 1927. The project moved the entire town of Coldwater, formerly established as The Village of Elm Grove, for $250,000. You can't get anywhere near that much work for $250,000 these days.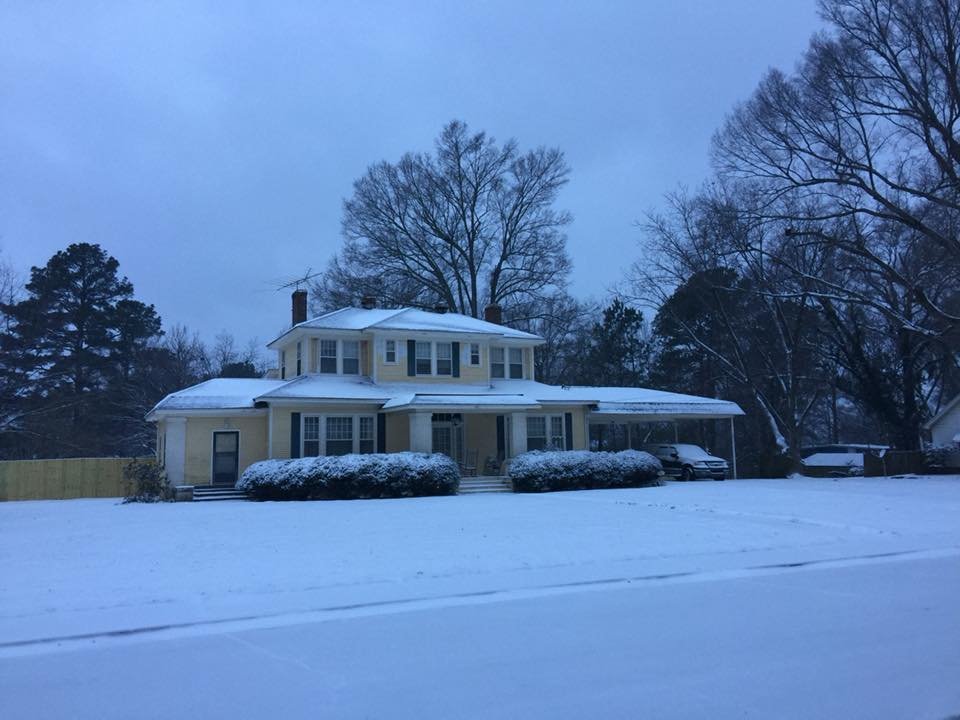 If you have ever seen the Coen brothers' movie "O Brother, Where Art Thou?", the flooding they are referring to is for the Arkabutla Reservoir. The movie is set in 1937, with action taking place in a valley that is flooded during the construction of the (fictional) "Arktabutta" Reservoir, based on Arkabutla Lake. A brief still shot of a newspaper dated Tuesday, July 13, 1937 bears the headline "T.V.A. FINALIZING PLANS FOR FLOODING OF ARKTABUTTA VALLEY". The character Everett McGill had buried treasure at a cabin located in that valley.
Sadie arrived in 1942 at our address to be set atop a brand new basement in the new municipal of Coldwater, Mississippi, with improvements to make her the Colonial Revival Eclectic architectural style she is today. The Methodist church across the street from us was also moved then, and it is so massive, I can't imagine how they pulled that off. But they did.. and here we are.
Kenny & Chelle
My husband, Kenny, and I update this home renovation blog with improvements we make to the house and plans rolling around in the pipeline, to make Sadie her best self. We don't post videos because all that you would hear is a lot of cussing and bickering.. so the written word, it is!
We hope you will subscribe to our newsletter and enjoy our experiences that have yet to make us regret a day of our 21 years together. Half a day, sure. 😉
Sadie's History
Our seller told us Sadie is older than the real estate listing of 1910, which is the year she was first put on the tax rolls. She once possessed, but lost, a picture postcard of Sadie from 1883, when she was smaller and looked very different. We haven't found that photo, or any historical photos of the exterior yet; but here are two we have been able to locate, showing one of the rooms of the house interior and the "garage" of the carriage house interior.
I'm not sure which of Sadie's interior rooms that is, as it's essentially a wall with a piece of furniture in front of it. Hopefully we'll learn that answer along with others we'll update on this renovation blog following our 1883 home.
History is important to both of us, so we will try in most cases to keep everything as period appropriate as possible.
Sadie's Walls
So far we have removed wallpaper from the kitchen, breakfast nook and upstairs bathroom. We've skim coated and repainted these rooms as well as the laundry room, master bedroom and sitting room, and one of the upstairs bedrooms.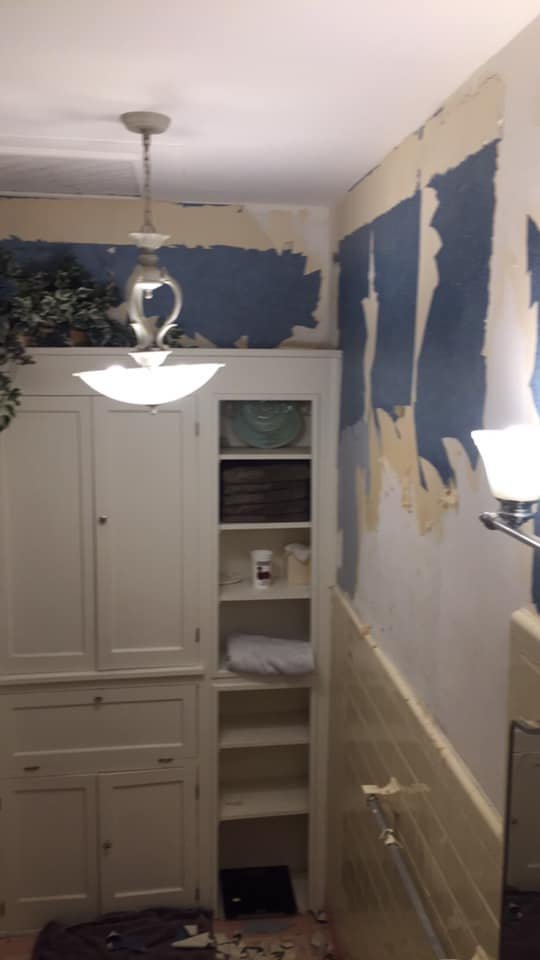 We're keeping the period correct paint colors currently in the foyer, parlor and dining room.
Sadie's Ceilings
We added 1/4″ drywall to the foyer ceiling, covering the seam-failing foam wallpaper from the 1990's that hid cracked plaster. Afterwards, Kenny installed the Murano chandelier and ceiling medallion I painted, against the brand new ceiling – replacing the 1990's light fixture that came with the house. Some time ago, a crystal chandelier hung in the adjacent dining room, but someone in the in the 1970's discarded and replaced the chandelier with a wagon wheel light fixture.. and covered the hardwood floor with red shag carpet. (OH THE HUMANITY!) The previous owners updated the light fixture and restored the hardwood floors beneath, sparing us the agony of having to deal with all that.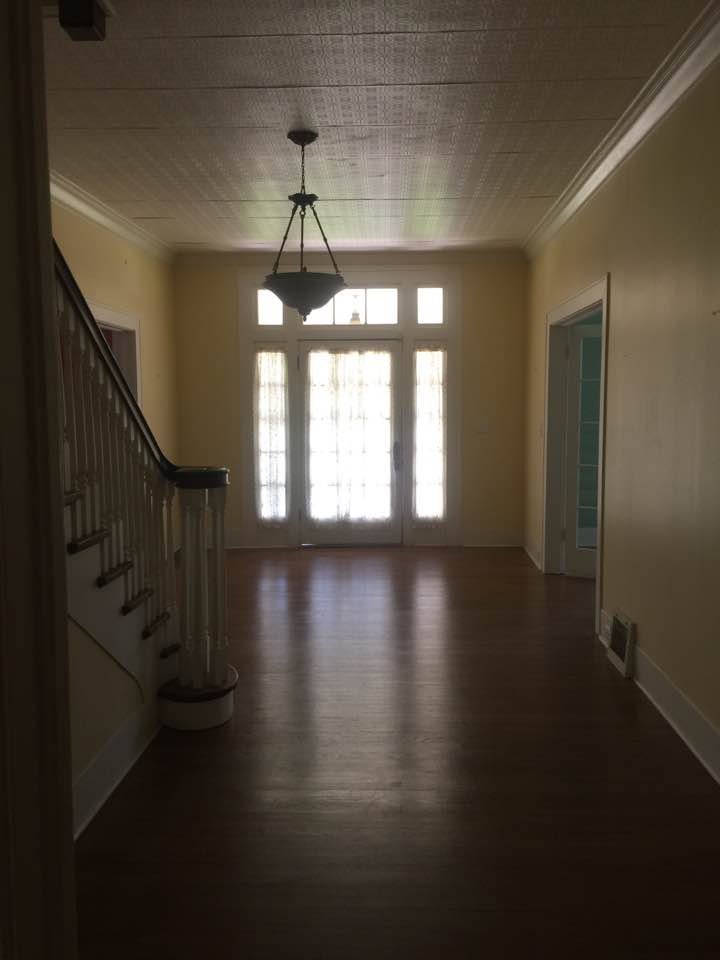 Sadie's Floors
We've removed the 1990's pink carpet from one of the upstairs bedrooms, but the hardwood floors beneath were damaged and patched in, where an old coal fireplace and window bench were removed. For now, those floors have new grey carpet (which takes on a blue hue against the blue wall color) because we can only deal with so many projects at one time.
There are two other carpeted rooms: the second (guest) bedroom upstairs, which looks okay enough to keep for a few years; and the abbreviated upstairs foyer, which is stained and will have to be removed sooner than later.
Once we get our 1961 ranch house in Southaven ready to list, we will remove that carpet and restore the underlying hardwood floors. We are currently feathering in and refinishing the hardwood floors in our Southaven house and will include all those steps, and any we make in Sadie's hardwood floor restoration in this renovation blog of our 1883 home.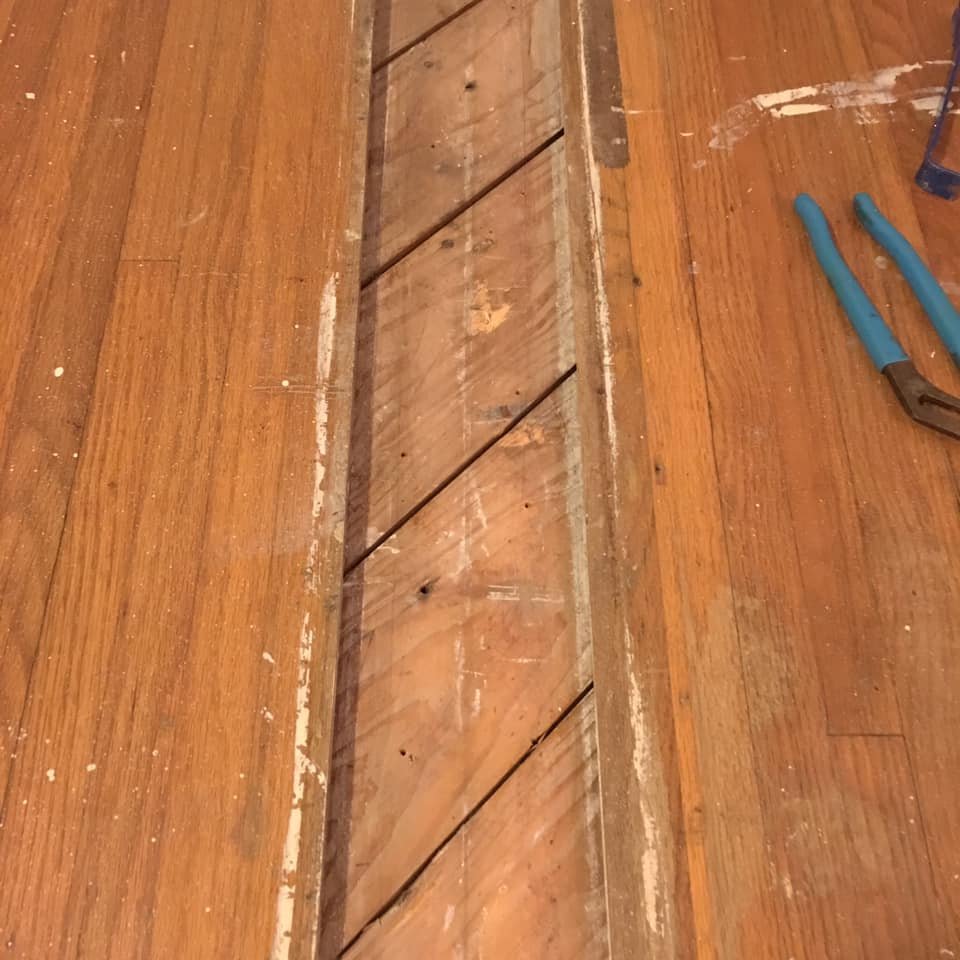 Until then, if you are seeking direction in refinishing hardwood floors, I suggest looking at Kristi Linauer's detailed instructions in her home renovation blog (my favorite) at www.Addicted2Decorating.com:
Sadie's Windows
In the very distant future we will tear out the walk-in closets added to the upstairs bedrooms, to restore all of the intended natural light in the upstairs foyer. This will reclaim the front central upstairs windows, currently held prisoner inside those walk-in closets, where we can then add window benches below them. Yes, that means less closet space, but we'd rather have the natural light and colonial revival vernacular intended in the 1942 move and redesign. It won't be any time soon though, because I am using one of those closets as a library, and it's pretty awesome!
I also have this super awesome art deco ceiling light with French glass paste shades that will be hung where the boob light is now. I can't wait for that to happen because I am OBSESSED with old lighting. To that end, here's a peak at the art deco slip shade chandelier I tricked Kenny into buying and installing in our bedroom. (Yes, I know.. popcorn ceiling, yuck. Leave me alone, I'm tired from being Sadie's slave everywhere else around the house.)
My obsession means there's tons more lighting here, including many frankenlamps I make with instructions, so stick around.
Only two of Sadie's windows raise but they have old wavy glass, working storm windows, and the charm I want to keep. Someday we may try to get them functioning again, but right now it isn't a priority as we are amply air tight.
Sadie's Roof
We have changed the design a bit in some bigger projects, especially when Sadie immediately required a complete tear down and re-roof. We added symmetrical hips to her ends that were previously flat and compromised her to leaks. If you look at her angles in the back of the house, you will see we aren't venturing far from her intention, but we will always keep symmetry in the front, as should be considered in a colonial revival.
Sadie's Enclosed Porch
We will continue in that direction with the enclosed porch beneath one of those hips, to her right. The enclosed porch has a drop ceiling (when it was used as an insurance office) that will be removed to show the original bead board ceilings. When that happens, we will reclaim at least two feet of ceiling height.
We have to tear out the walls in the enclosed porch to the studs, as there is water damage from the old flat roof we replaced. We will be replacing the single doors on both ends of that room with French doors, and adding a giant salvaged picture window with transom, along the main outside wall, making it more of a solarium or sleeping porch, than an enclosed porch turned insurance office.
It is a distant project since it is the one room in the house where Louise's dog, Scooter, still goes potty. The enclosed porch has asbestos tile flooring that has to be removed and will be torn down the studs, so we aren't losing our minds over the pet potty issue in that room – simply grateful he's sparing the hardwoods throughout the house.
Sadie's Electrical
We've updated the electrical from older fuse boxes to breaker boxes. So far that seems to keep the knob and tube safe enough to live with. To replace the knob and tube would mean tearing out old plaster walls and right now, we prefer to keep them in tact, as long as the wiring (and plaster) will allow.
Sadie's HVAC
A 75 year old non-working furnace came with the house and still lives in a corner of the basement until we can saw it apart and move it out. We originally tried to restore the furnace (with a $200 non-refundable pilot switch!) because the air conditioning worked fine when we were closing on Sadie. However, no one manufactures the parts needed for the old furnace any longer, so there was no option but to replace everything with two HVAC units. But first, Kenny removed a ton of stuff from the basement and rebuilt part of those stairs.
I did manage to use the cool looking doors from the old furnace as part of my shelving in my studio.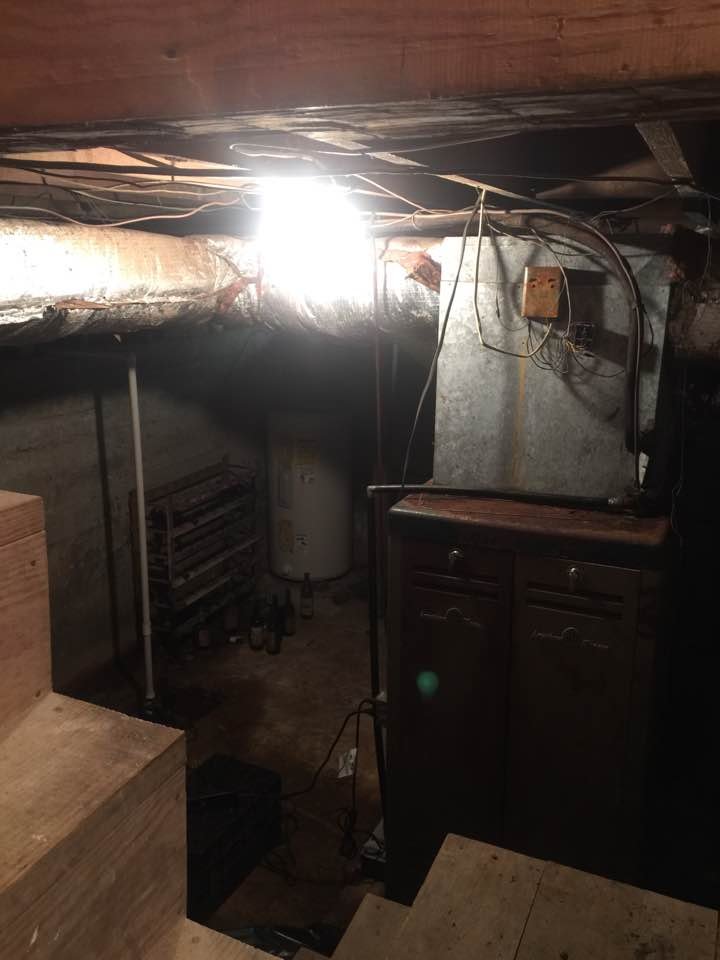 Join Our Money Pit Existence
The first thing we did after we closed on Sadie was replace her roof, HVAC and update her electrical – all very expensive. But what can you do in an old giant house you love, but keep throwing money at it.
Many dollars will be thrown at the kitchen when we update it with leathered granite counter-tops (which may not be chic by the time we do it, but we really love the durability, maintenance and look of granite). We will replace the kitchen ceiling fan/light with the chandelier (without drop) from the dining room, and replace the dining room lighting with one of my frankenlamps: an old, rewired, four-arm pan-chandelier with added slag glass shades.
I will be keeping the stained glass light fixture in the breakfast nook right where it is. In case you hadn't noticed already, I REALLY LIKE STAINED GLASS!! (see chicken lamp) I have been aging the brass looking metal of the fixture with Jax so eventually that won't look so shiny.
We will also restore or replace the kitchen cabinets. If I keep them, I will probably strip and repaint them white, since I like to keep the kitchen bright. The original cabinets are obvious: they live on the built-in wall and they won't be going anywhere, don't worry. The condition of the wood beneath the paint on those will dictate whether they are stained or repainted. But even if I stain them, it will likely be a white stain-wash.
Follow the Money
Kenny and I update this old house renovation blog following our 1883 home often as well as Sadie's Facebook page. Below is a gallery of how Sadie looked before we started working on her, to help you keep up. As you can see, there's still lots to do. Come watch us burn through the bucks and join our adventures with our lovely money pit!