Right before Christmas, we returned the original dining room, from a bedroom, back into a dining room. There was a lot of work (and hip surgeries) to get through before this event, but I pre-empted everything and ordered a smaller table with chairs (and later, a retro step stool) for the breakfast nook, as my birthday present. The dining table and chairs we used previously, was too big for the breakfast nook, even without the table leaf extension. But I really loved the shape and look of the table, which came to me *free* from my bestie, Dana, along with four parsons chairs I bought from her for next to nothing. 🥰
It is a beautiful table, but hard to maneuver around, inside a small breakfast nook. We have two large windows, a kitchen pass-through and an entry to deal with on all four walls, or I might have considered banquette seating. But I was not hoping to recreate restaurant seating, and I love to pull in mid-century modern style anywhere possible; so I was really pleased with this change!
So then I had this gigantic dining room to fill, initially thinking I would need to find a large, formal dining set, to start. But I struggled with the thought of losing my set from Dana.. so I doubled down, seeking two more chairs from Pier 1.. and found lots of brown parsons chairs, but none that matched mine.
Interesting problem.
Then Peter Brady came to my rescue!
Did you know Christopher Knight, who played Peter Brady on The Brady Bunch, makes furniture?! Take my purse, you long ago, crush-o-mine! I ordered two of his button-tufted end chairs with arms, which are different enough from my original four to not stick out like a sore thumb. The legs are darker brown and eventually, I plan to remove, sand and stain them to match the parsons chairs… but this wasn't anything I wanted to tackle while cooking Christmas dinner, for chrissake!
Eventually: that place and time where I screw over the subsequent version of myself: as if I will be defying the laws of time, gaining youth and strength.
Please also notice the pink upholstered gentlemen's and ladies' chairs on the wall between the windows. 🥰 These were gifted to us from our friend, LeeAnne, whose mother needed to down-size, but wanted her mother's cherished heirlooms to end up being loved, somewhere safe. I just adore these chairs that look like they were custom made for this room! It's eerie how often the perfect items end up falling into Sadie's lap, like they were planned all along.
These chairs are so comfortable and perfect for sitting with a cup of coffee (or glass of wine) and a friend. I love to sit in the ladies chair, just to destress every now and then.
Thank you Dan and LeeAnne! ❤️
We still have a television on the entry corner wall, from when the dining room was a bedroom. I know this will make me sound really tired or lazy: but I don't have any refresh paint for this room, and I don't want to deal with repainting it right now. When I do repaint it, it will be the same period correct pink color that I designed my drapes around. Sure, I guess I could repaint the one wall.. but what is so wrong with a television in the dining room anyway? Huh?!
What if I want to eat a bowl of Cheerios and watch The Brady Bunch in my Christopher Knight button tufted end chair with arms? Don't you dare crush my dreams!
As is often the case with my dreams, they grow into sacred visions that lead to crusade! This is how we ended up moving my Henredon sofa home, that will someday be against the big window wall.. and yes! On that fateful day, we can even NAP while watching The Brady Bunch!
Here's a story! Of a lovely lady… Zzzzzzzz
But until then, there is one more chair in the dining room, that we bought today from a lovely couple off Facebook Marketplace. The old pink recliner that is crammed into the corner between entries to the kitchen and entryway, will be leaving us to be replaced with the beautiful antique chair with bolster you see below.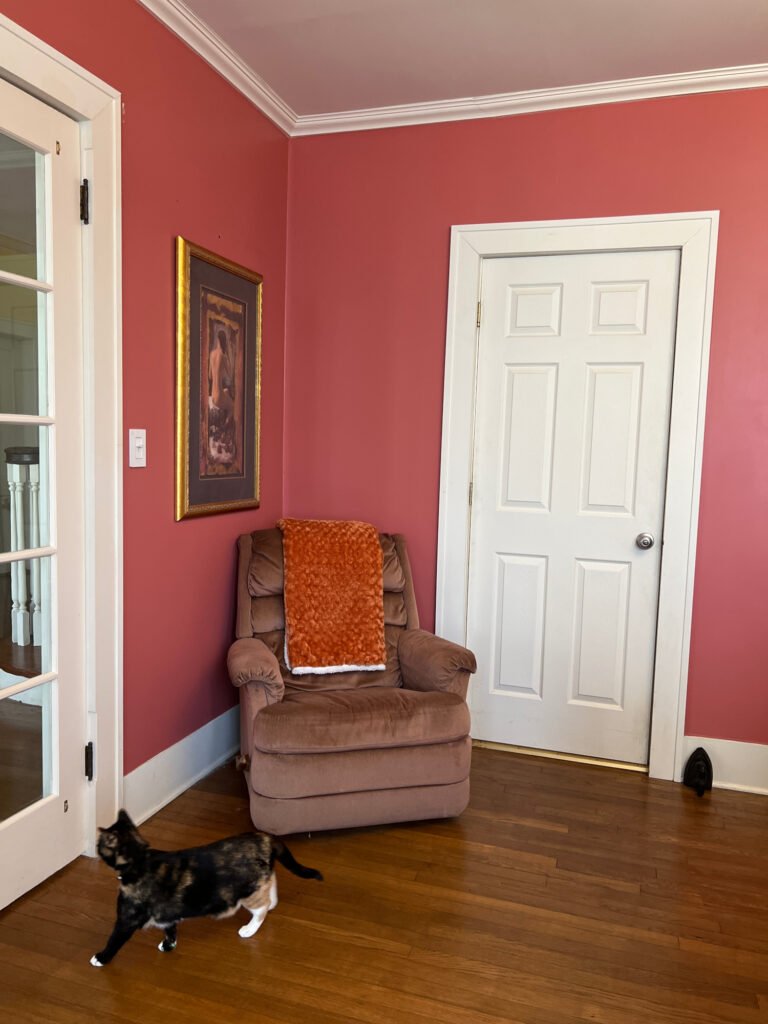 Oh, my heart! 😍 I am so in love with the size of this chair and blue roses in the fabric, that remind me of The Glass Menagerie. The corner where it will live is removed far enough from the drapes, so the colors and patterns will not conflict with each other.
Here it is closer:
ALSO: Here's a photo of the Fab Four who are now permanent residents of our guest bedroom.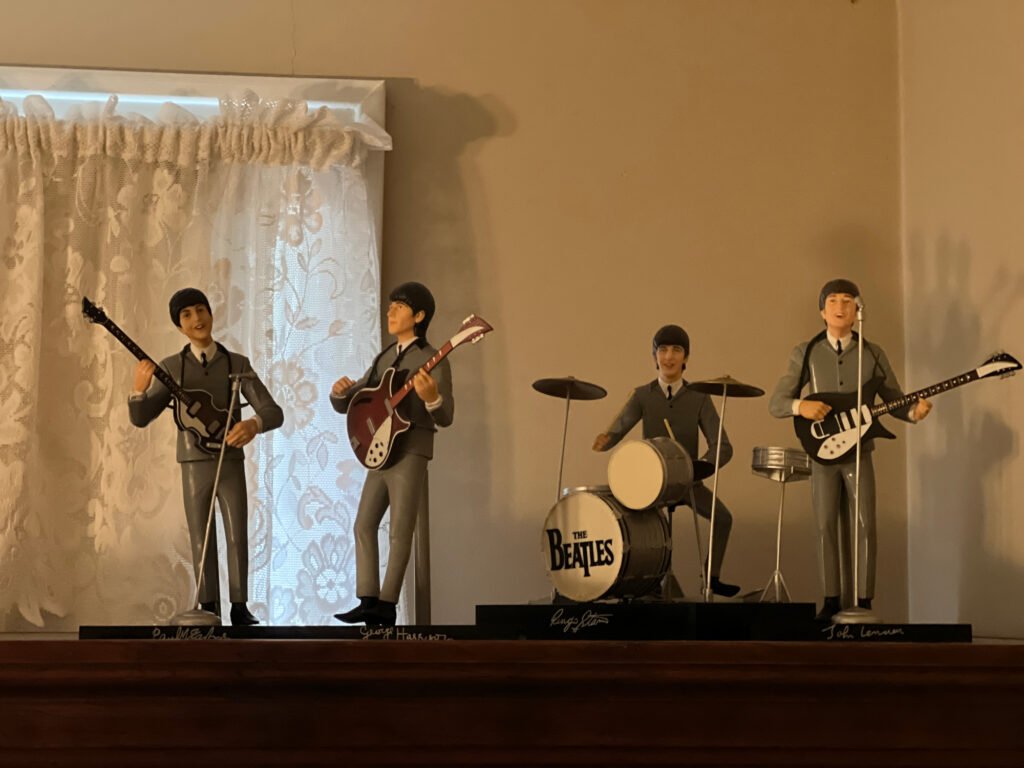 ---