Kenny watched a Vic Dibitetto video that flung a craving right on both of us. His mother-in-law was making Italian Peppers & Eggs on her Vittoria's Kitchen channel on YouTube.
So here is my crack at that all day endeavor. I am not an egg lover, but Kenny is, so this was totally for him.. but I enjoyed the third of one I could eat before the idea of eggs made me queasy, as it always does.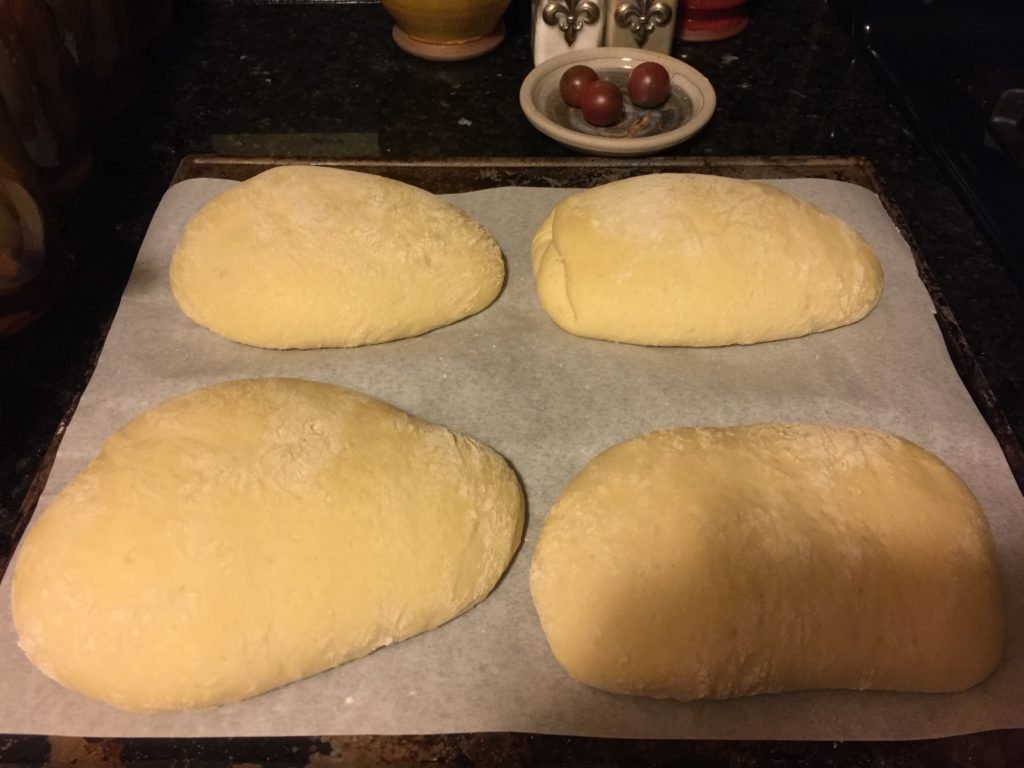 Ciabatta Dough Starter:
Prepare your starter to make Ciabatta bread Rolls, which takes more than four hours. This part can be done the night before.
1-1/3 cups all purpose flour
1/2 tsp sugar
1 tsp active dry yeast
1 cup water, 90ºF – 100ºF
Mix all ingredients well, cover and leave at room temperature to ferment for at least four hours or until doubled in size.
Ciabatta Bread Dough:
2-1/4 cups all purpose flour
2 tsp active dry yeast
2 tbsp olive oil
1-1/2 tsp salt
1 tsp sugar
4 tbsp water, 90ºF – 100ºF
1/2 cup warmed milk
Stir the risen starter and let it rest for 5 minutes.
Meanwhile, in a small bowl, mix your warm water, milk, sugar, salt and oil together.
Sprinkle your rested starter with yeast, then add your milk and oil mixture along with 2 cups of flour, and mix well.
Transfer to a flour dusted board or your stand mixer with bread hook and knead for 5-6 minutes adding the remaining 1/4 cup of your flour, 1 tbsp at a time, as you knead/mix.
Transfer the dough to a large bowl coated with olive oil, swirling the dough to apply oil to the outside. Cover and leave in a warm place to rise for 2 hours or until it triples in size.
Punch the dough down then transfer to a floured surface. Gently roll the dough to make a 12 inch rectangle, then cut into 4 quarters.
Shape the dough by sprinkling a baking sheet with 2 tbsp all purpose or semolina flour. Shape each quarter into a small rectangle by folding it like a letter, tucking the edges inside. Transfer each folded rectangle onto a baking sheet, folded ends down, placed in 2 lines, 3-4 inches apart.
Cover your buns with a kitchen towel and let them rise at room temperature for 60 minutes or till almost doubled in size. During this process, preheat your oven to 425ºF.
Bake buns for 22-25 minutes until the tops are brown and the bottom of the rolls sound hollow when tapped.
Transfer to a cooling rack. Serve warm or let the bread cool completely, then wrap in plastic wrap and freeze for later.
Italian Peppers & Eggs:
As your bread is in its final rise and bake, prepare your peppers and eggs to be ready for your hot ciabatta buns.
4 green or red peppers, washed, seeded & sliced
4 large eggs, scrambled in bowl with 1 tbsp water added
1-2 cloves garlic, chopped
1/4 cup olive oil (enough to coat the bottom of pan)
Salt and pepper to taste
Grated parmesan or romano cheese
1 loaf of ciabatta or French bread, sliced to make 4 sandwich rolls
Crushed red pepper (optional)
Mild or hot Gardinera
In a large skillet, add olive oil and garlic and saute on low-medium until the garlic is golden, careful not to burn.
Add peppers, season with salt and pepper, stir to coat peppers with oil.
Continue cooking on low-medium heat, stirring frequently, until peppers are soft.
Raise heat to medium-high and add eggs, stirring well to coat egg onto peppers. Cook eggs thoroughly, careful not to burn.
Sprinkle with cheese and red pepper. Serve on a roll and add Gardinera.