Hi. My name is Chelle, and I am addicted to antique interior lighting and lamps. 💡 Especially slag glass!
Maybe it's because I grew up in the era of twirling disco balls shimmering over the Bee Gees, glitter-bombed roller skating rinks, and jazzy episodes of Solid Gold. 🕺💃
The 1980's that followed did nothing to dim things down.. what with the neon colors and big hair. It is my estimation that the 80's were the apex of the 1900's, reaching top levels of drama in sound, vision and lifestyle. The 90's that followed had nowhere to go but down, and could only give us limp, greasy hair; drabby, disgruntled moods and the birth of reality television.
And of course the Internet! Kenny and I met on the Internet in 1999, with only a dialup modem connecting more than a thousand miles between us. To this day, when a retro reference is made in squeaks and squonks to dialup, I'll coo to Kenny: They're playing our song!
To end this topic of my post, here is my big 80's hair (and old name), from my days as a humor columnist for The Panolian.
I am so completely beyond help, with no plans for rehabilitation. Look at the state of my studio right now:
I mean.. have you EVER?! 😳
I typically and casually justify all this with my plans to make Frankenlamps, and to rewire old fixtures for the house.. eventually. Clearly, I have a problem!
But my solution pretty much stops at admitting my addiction; thus, no cure on the horizon.
So let me double down now and show off the vaseline glass lamps I got for the living room, last Fall.
Then something MAGICAL happened: my sister, Margo, gave me this antique pickle canister for Christmas, and OMG look at the match of my aesthetic. We are definitely sisters! ❤️
I cannot fail to mention here that these all glow neon green under a black light (refer back to the 80's above). Most of my lamps have uranium glass and glow.. and if there is anything I love more than old slag glass: it's old CHARTREUSE slag glass! 😍
TAKE MY PURSE! 👜
I also want to thank Margo and my BFF, Dana Doodle, (who gave me an old chandelier and other lamp parts recently) for encouraging my addiction. 💉
In the words of Amy Winehouse:
I ain't got the time
And if my daddy (sister and BFF) thinks I'm fine
They tried to make me go to Rehab
But I won't go, go, go
The only fix I can come up with is to get busy making Frankenlamps: so I can sell those, to have money and space, to buy more lamp parts.
Eureka! 🧐
Onward to kitty news. I got a cat tree for Frankie and Celie this month and they have become permanent fixtures on it. You just really never know with cats.. it seems like the more money you spend on something for them, the more determined they are to shun it.
I installed it in front of a window in the dog room (future solarium), which helped with the outcome; although, I don't know that I would label the same as successful.. exactly. They spend most of their time fighting over the top cave, which we have named the catbird seat. Each morning – before I have had my coffee – there is a wild stampede for the catbird seat… simultaneous to the dog union convening in the kitchen with their list of treat demands.
Kicking ass for the working class! 🐕
Two small dogs and cats in the house sure is a lot of fun! We are consistently entertained with antics, and Kenny has become a devout cat person! 😻
Speaking of Kenny, here is an update on the work he has been doing on Ashely's stairs, adding and painting risers. He's decided to make his own cove molding, putting a strip between the bottom of each step and top of each riser, and along the sides of each step and the wall trim, to hide the gap. It should look pretty fancy when he is finished. I'll keep you updated.
Also, speaking of Kenny – and since we are sharing old photos – I'll share a link to our wedding photos from 22 years ago. ❤️ Ain't we cute!
Well… other than we recently watched the Ken Burns Country Music documentary on PBS and can highly recommend it… I don't have much more to say. So I will leave you with my chocolate meringue pie recipe as tax.
I searched for years to find the perfect chocolate pie recipe that lived in Kenny's childhood memories, finally adjusting my mom's banana pudding, vanilla custard recipe. It has come closer than any other version, and as it turns out: you also can add toasted, shredded coconut instead of chocolate chips and serve up a really mean coconut cream pie. Enjoy! 🥧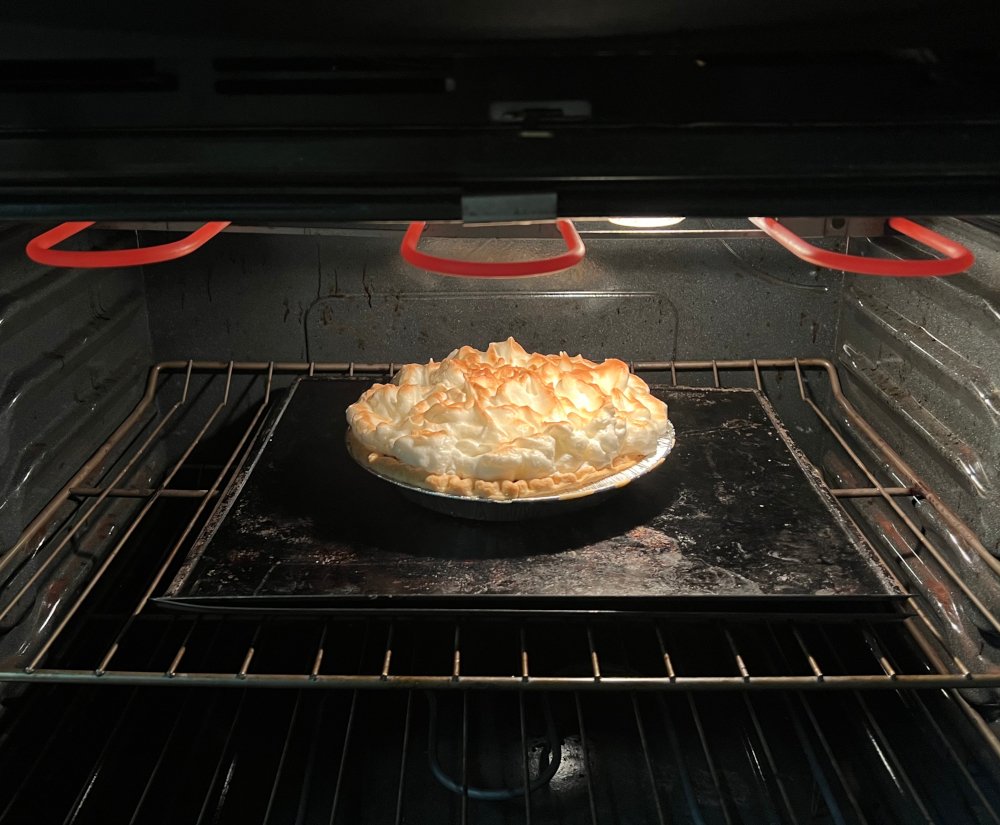 Recipe: My Chocolate Custard
1/4 cup flour
1/2 cup sugar
1 can 12 oz Pet milk
1/3 cup of milk
3 eggs yolks
1/2 stick of butter
1 teaspoon vanilla extract
1/2 regular sized bag semi-sweet chocolate chips
Combine the flour, sugar and salt in a heavy bottomed sauce pan. Add the milk and cook at medium heat, slowly stirring to keep it from sticking or burning. Cook this way until boiling and then two minutes more, then remove the pan from heat. Temper your egg yolks by pouring about a half cup of the pudding mixture into the bowl with your yolks, stirring them until well blended, then add it all back to the sauce pan. Mix well then add butter, vanilla and chocolate chips to the pan, letting everything melt in from the heat.
I use a deep dish pie shell from the freezer section of the grocery store because I am not trying to reinvent any wheels. I can make a pie crust, I just don't want to break out the rolling pin.
Unless I haftu! 🤨
Bake your pie shell according to the directions for cream filled pies then pour your custard into your shell.. then top that with my mom's meringue and broil it on high while perching in front of the oven so you don't burn it. You want it to roast so the peaks are golden brown.. you aren't going for charred s'mores here.
Recipe: Mom's Meringue
3 room temp egg whites you didn't use in the custard
1/4 teaspoon cream of tartar
1 teaspoon vanilla extract
2 teaspoons sugar
2-3 tablespoons marshmallow cream
Add your cream of tartar and vanilla to the egg whites (in a big stainless steel bowl), and beat them on medium high with a hand mixer until soft peaks form. Then add your sugar and beat on high until hard peaks form, then add the marshmallow cream and beat on TURBO for about another 20 seconds or until all is blended well and fluffy.
My mom is very clever, adding marshmallow cream to her meringue! Not only does it smell like roasted marshmallows in the oven, it keeps the meringue from shrinking in the refrigerator.
Load that on top of your pie, making quick, non-committal, stabby motions with your spatula so the whole thing is covered with peaks that will brown. Stay at your oven door so it doesn't burn, then refrigerate overnight… and I mean overnight or it will be a mess.
UPDATE: April 12, 2023
Kenny checked into buying the cove molding he needed for Ashley's stairs project, but it was going to cost a butt-load. He, instead, bought router bits and made the molding himself, much cheaper! He still has to make the trim for the sides of each step, but they are looking way more finished. He caulked and refreshed the paint, then added his fabricated & poly-ed trim under each step (after he noticed Sadie's stairs have similar molding below each step). Ashley's stairs are well on their way to being better than they even began.