Behold: the "transom" I made with two 1960's knotty pine built in china cabinet doors that have been stowed away for 20 years for the right project. I don't know if this is the right one, but they aren't precariously stacked where they can be broken by everything now.
Yes, they are up there well. Could I possibly be married to Fire Marshall Bill aka Kenny, and not have them secure? I can't really get all the way up in his a$$ though, look at the lettuce and herb bed he put in for me in front of my outside window! ❤️
I should get back on track here and explain that I used the term "transom" very loosely, because I don't really know what else to call these doors the way I have them installed. I attached the cabinet doors to the 2×4 central beam of my studio and there is no natural light shining through them. Although they do reflect and double the electric ceiling light for me.. win/win!
I have two natural light windows in my studio, although I started with just one non working sash. In 2018, I put a 20 pane picture window in the southwest wall of my studio and it was immediately transformed from carriage house shed type room to well-lit studio!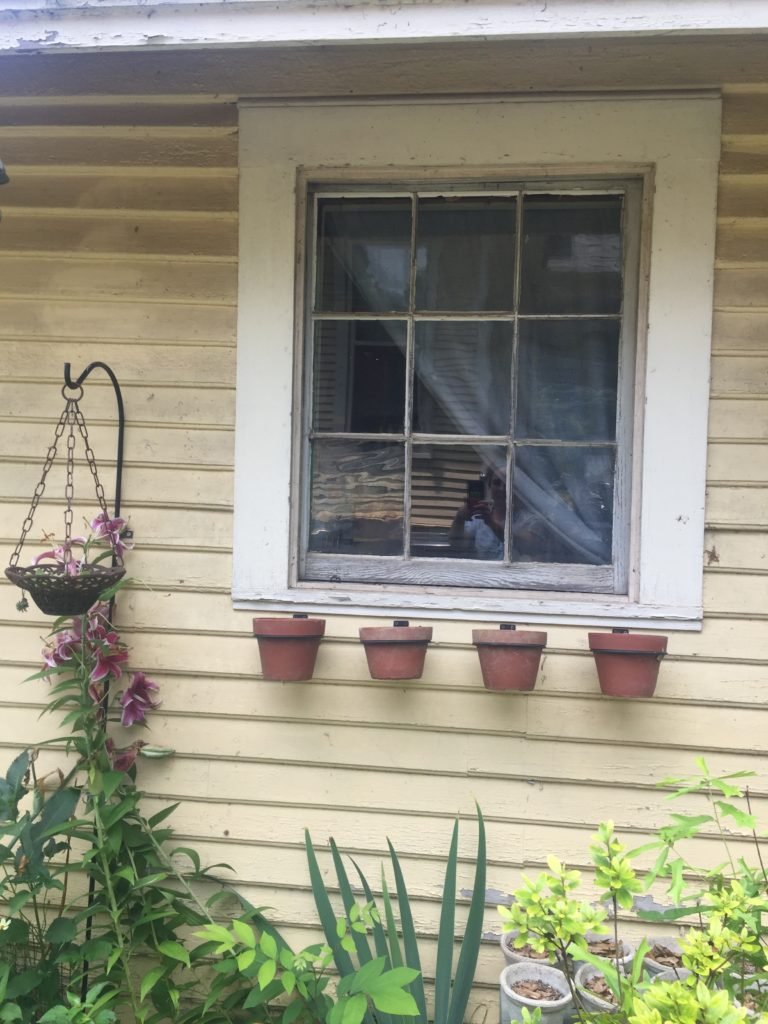 You may have noticed my missing glass doorknob in the outside photo above. This will be the second time it has come off from Kenny trying to pull my door open while it was locked from the inside. So that's on his honey do list now.
And on mine was rigging up my gypsy doorbell that I have had in mind for a few months now. That's an old toilet tank chain (I know.. ew.. but it wasn't in actual sewage, just the clean water tank.. and it has the right patina, so it stays!).
I found these brassy looking bells on Amazon and attached them with unsheathed romex electrical copper wire and then attached this janky napkin ring I found years ago in Pier 1. That's all attached to the rope that goes through my wall to attach to my shop doorbell. #ringydingy 😀
To close, I'm going to try and embed a 360 partial photo of the top half of my studio interior, with my muse, Moosh, looking over me as I create.
Boo.. it didn't work… here's a still version anyway: