This may not be a big deal to most of you. HOWEVER: for four years I have been using a flash light to search through the four cabinets that make up my pantry.
So a couple of weeks ago, I ordered two battery powered sconces for the pantry, believing that the electrical source to the old fluorescent was dead. They were really hideous and no better light source than a flashlight. So Kenny took pity on me and checked again, finding that the problem was with the fixture, not the electrical.
You know that I always have old lamp and light fixture doo-dads on hand, and that day was no different. In my cache, was an era appropriate pot metal ceiling fixture that I knew was gonna be special somewhere in the house. I think I paid around $10 for it back in 2018 on Ebay, and you can see what I was working with in the first photo below.
Kenny was distressed by the chipped paint of the fixture and asked me to repaint it before he installed it.
So here are photos of the old/new pantry light fixture and below that, a tutorial if you want to repeat my work: 🥰
This is pretty much the same process I used when painting my ceiling medallions.
Fun Fact: If you replace the words Ceiling Medallion to the Beatles' Lady Madonna, you will pretty much never hear it the same way again.
You're welcome! ❤️
Tutorial:
If you would like to recreate my ceiling fixture, you will need the following materials: 

Fixture:
An old pot metal ceiling light, I found mine on Ebay.

Paints:
Jacquard Lumiere Metallic Acrylic Paint 2.25 Ounces-Pewter
Jacquard Products Lumiere Fabric Paint 2 Oz. Jar: Metallic Olive Green
Jacquard Lumiere Metallic Acrylic Paint 2.25 Ounces-Bright Gold
Jacquard Products Lumiere Fabric Paint 2 Ounces-Old Brass
Jacquard Lumiere Metallic Acrylic Paint 2.25 Ounces-Pearl White
Jacquard Products Lumiere Fabric Paint 2 Oz. Jar: Metallic Bronze

Brushes:
Xubox Pointed-Round Paintbrush Set, 10 Pieces Nylon Hair Artist Detail

Expect to cover your cleaned fixture in at least two coats of your base coat.
I wanted some dimension in my base coat, so I started with a total coverage of Lumiere Copper then dry brushed Lumiere Bright Gold, for depth. I added a couple of coats of Lumiere Old brass to mix up the "metals", then started adding color to the raised parts with the remaining colors.
I made decisions in the different colors I added to give the fixture further depth.
You can use any color combination you like. I went with my colors because I wanted them to coordinate with my painted ceiling medallions and wall color in neighboring rooms.
Since we are in pantry, this would be a good time to show you my spice shelf, now that it is neat and organized. After the new year, I did a lot of deep cleaning, decluttering and rethinking on how to reorganize my kitchen cabinets and storage closets to make life more enjoyable. Sure, it's great to have loads of dish towels and kitchen gadgets; but if they're falling on your head every time you open a door or a drawer, it can be stressful. So while I am up on my "less is more" soapbox, let me tell you that is definitely not the case when it comes to herbs and spices. Kenny and I love cooking.. with lots of spices.. in the cabinets and growing in herb beds. Gimme, gimme! Anywho… here's my shelf: ta-da!
ALSO: To close, here is a photo of the roses Kenny sent me for Valentine's Day this year. Aren't they beautiful! ❤️ ❤️ ❤️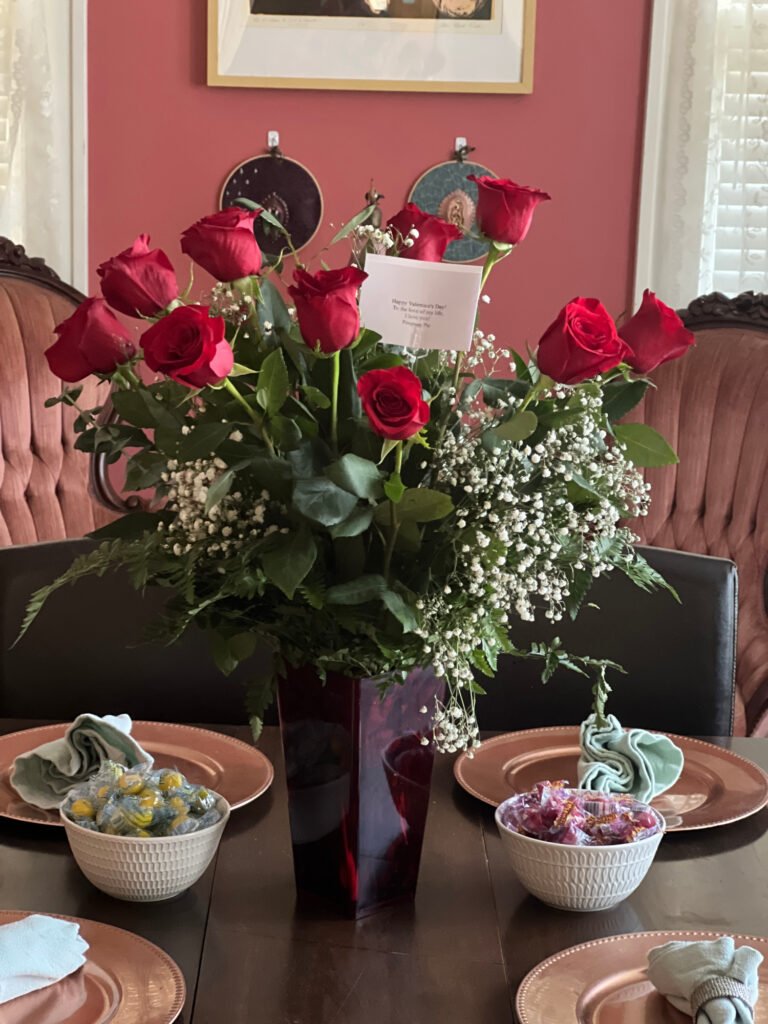 ---