After being laid off when RCA closed it's television manufacturing plant in Memphis, and moved to Taiwan, my mom, Sarah Bond, went to work for a small local electronics company called Audiotronics.
Audiotronics built state of the art mixing boards for music and sound recording studios. Mom actually physically built these boards, soldering up all the components. She built boards for Stax Records, Ardent Studios and MGM Records.
Though we have no way to verify it, she is pretty confident she built this one in the photo which is part of the Stax Studio. It has mixed some iconic R&B hits by artists including Sam & Dave, Booker T and the MGs, The Box Tops, Isaac Hayes, Led Zeppelin, Leon Russell, The Staple Singers, James Taylor, ZZ Topp, and John Prine to name a few.
Mom is part of the Memphis Sound history. YOU ROCK MOM!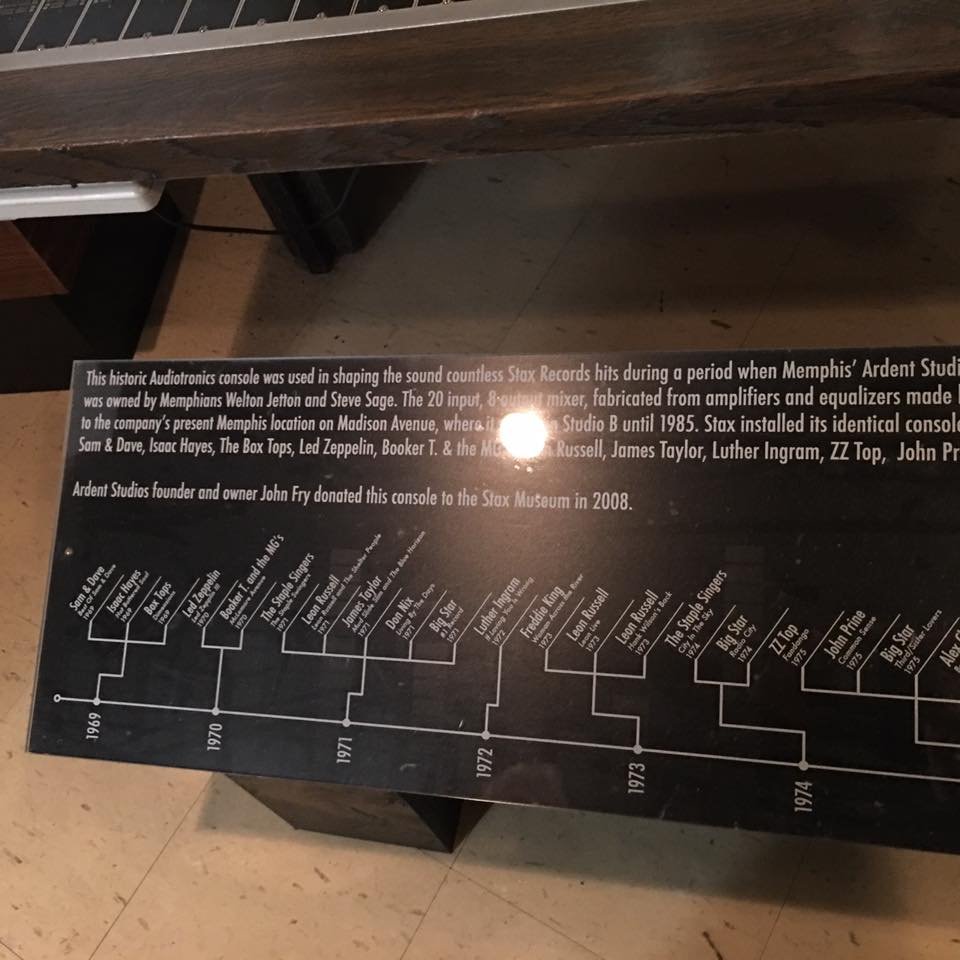 This board was donated to Stax in 2008, by the owner of Ardent studio in Memphis. It is a sister to the original Stax board, which was sold to a recording studio in Norway when STAX went bankrupt in the late 70's. That original board is still in use today, recording music in Norway.
A friend of mine has a son who was a technician for Ardent for about 9 years and now has his own business. He thinks he probably used one of the sound boards Mom built. He says Audiotronics boards are some of his favorite sounding mic pres and eqs to this day… and wishes she was still building, so he could buy one.
Mom says she loved building them, and working at Audiotronics and RCA. She says she would still be doing it if she were able.
If you have not been to the Stax Studio and Museum in Memphis, you are missing out on a HUGE hometown gem! It's as important to the history and development of rock & roll, soul, R&B and blues as SUN Records, and Motown.
If you can find the Stax documentary on the WKNO produced Memphis Memoirs, watch it!