I got a quote this morning to install the giant picture window I bought in November (where the middle door is in the carriage house), in my future art studio.
I prematurely present to you: Moosh Print Studio.
Named appropriately after my muse, Moosh.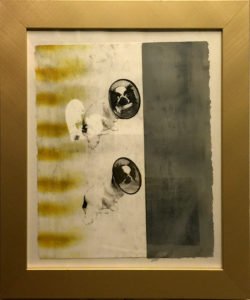 Update: July 3, 2018
Picture window installed, now Kenny's got to replace the siding below the window and switch my door out with the one, just removed.
Then electrical and mini split ac/heat installed and I'm good to go for awhile. In the interim, I'll paint the floors and ceiling, whitewash the knotty pine walls and build a butterfly garden planter to go beneath the window. ?