I have mentioned in a few of my posts, my lamps with French pate de verre shades and I wanted to take a minute to show you two of my faves, flanking the love seat in the master bedroom:
The only thing I changed on the bridge floor lamp (above) since I got it in June 2019, is the shade. I bought the lamp for $30 on Facebook Marketplace, and right away I determined that under the black paint lives a jadeite spacer ball (when I gave it a little scritch, and chartreuse beamed bright back at me). I will be removing the black paint from the jadeite (and possibly the entire lamp, depending on my energy), but for the moment, I have a million things keeping me busy.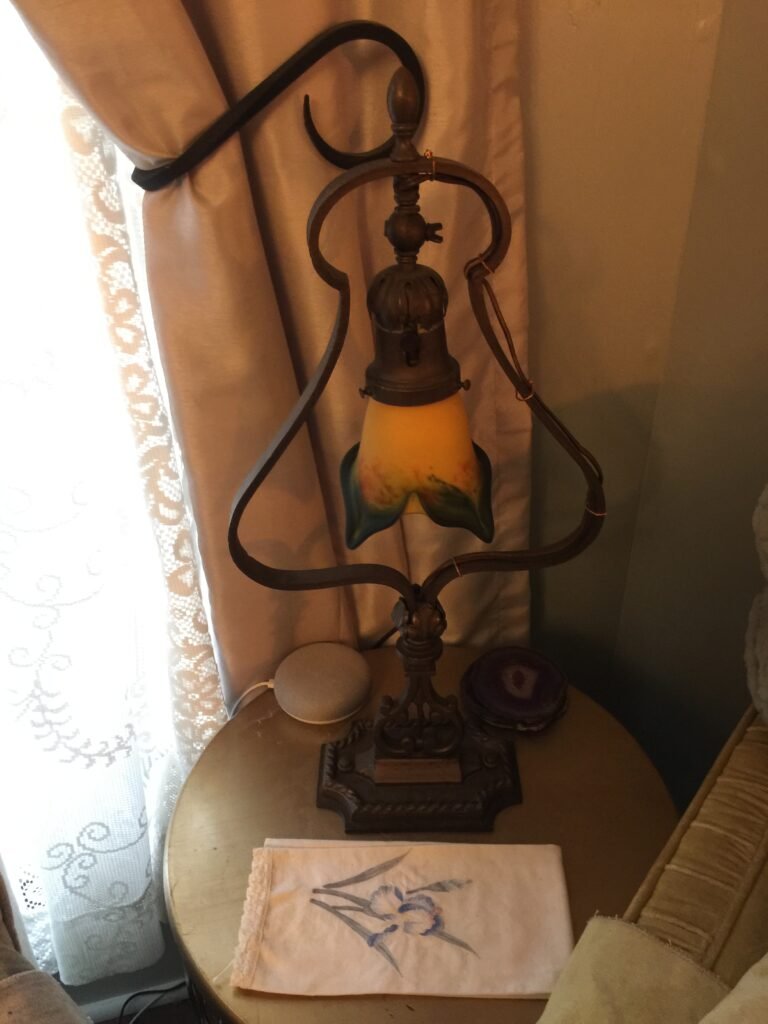 The table lamp (above) was my Christmas 2019 present and it's my favorite lamp in the house. It came with an Art Nouveau signed Schneider glass shade, but it's pink and purple. While gorgeous, I had my heart set on blue and amber. I found the exact Schneider shade I had in mind (also signed) from an antique dealer on Ebay, but for almost as much as I paid for the lamp with shade. So I waited and watched for six months and when it finally went down about twenty bucks, I couldn't wait any longer. It's a really great match to the floor lamp shade, and I was able to use the pink and purple pate de verre shade with the frankenlamp: table bridge lamp I made earlier this month.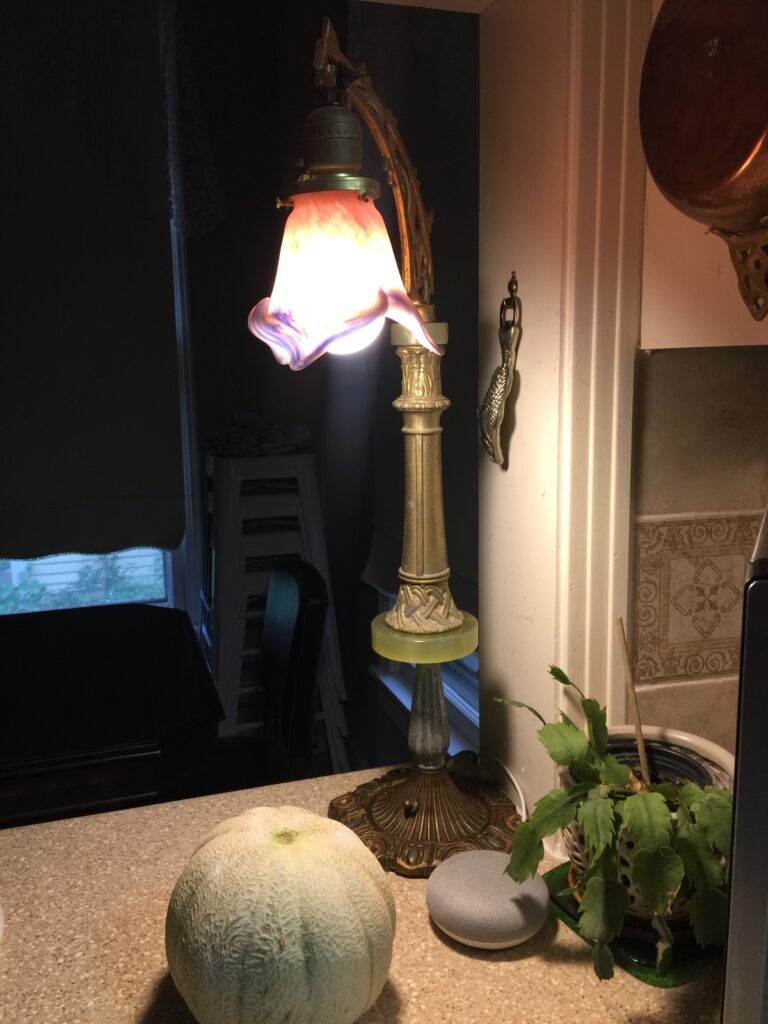 While we're hanging out in the master bedroom, I thought I'd show you the gorgeous original paintings I bought from artist, Dimitri Stevens back in March, when the Covid-19 pandemic was just starting to rear its ugly head. I bought the larger chimpanzee painting from Dimitri for Kenny's Christmas present back in December 2019. Then when I learned the smaller two were available, my soul nearly exploded out of my body and danced down the street!
Dimitri is one of my absolute top five favorite artists so I generally watch his inventory like a hawk! If you'd like to buy some of his works, you can email him at [email protected] for details, or visit his website that at www.alwaysdimitri.com.
These works are also Moosh Approved! If you've read my blog long enough you know how my little Pekingese and muse, Mooshie Moonpie, covets and defends any monkey she can get her paws on! The first night she slept in our bed after the paintings were hung, she turned around and faced the wall instead of the television.
Update: December 16, 2020
I put a new duvet cover and shams on our bed and everything goes so well with Dimitri's paintings! Although I think his paintings would upgrade any bedding I tried.
Above, the grey duvet is Anthropologie's Nimbus (light heather grey), with euro shams from Pottery Barn's Jordana Paisley Percale collection in blue.
Below, the colorful duvet and two of the euro shams is from Anthropologie's Florence collection, with the middle euro sham, quilted in cotton, linen and silk from an unknown collection of Anthropologie.
To match, here I am in my Accidental Coyote t-shirt designed by artist, Jean Holmgren.